Everywhere we look, core processes and services have been streamlined and digitized in response to an increasingly "online" population. Giants such as Uber, Ticketmaster, Netflix and Amazon have revolutionized their respective sectors by making the analog digital and maximizing efficiency, all the while remaining focused on improving the user experience.
Today, we also see "traditional" sectors rush to meet the expectations and to mirror the behavior of modern individuals. Banking can now be done almost entirely online, from account opening and security checks, to applying for loans and making transfers. In some countries, digital estate agents are helping sell or rent houses in an entirely virtual environment.
Public services are no different as the push for eGovernment continues to pick up pace globally. Whether it be paying taxes, applying for licenses or changing names, many core services are now conveniently managed digitally. Unsurprisingly, the world of travel has not escaped this digital revolution – with travelers able to book their accommodation, flights and plan a detailed itinerary online from the comfort of their own home. Simultaneously, Governments are turning to technology to support the needs of the ever-expanding traveling public.
The electronic Visa (eVisa) is one such solution that enables Governments to do what was previously unthinkable: maintain strict standards of control and security, while respecting the changing demands of travelers in an increasingly time-sensitive world.
What is an eVisa?
An eVisa or electronic Visa is a digital version of the traditional visa that is often applied for and issued at an Embassy or on arrival. When an eVisa system is implemented, the traveler applies for one from the comfort of their home (smartphone, tablet, or laptop) and receives a digital Visa stamp or Digital Travel Credential – which is secure, tamper-proof and digitally linked to the passport. An eVisa introduces a fast and secure experience.
For Governments, an eVisa system modernizes the visa application and issuance process by enhancing the vetting and risk-assessment of applicants, introduces efficiency and a strong audit trail, enhances resource management, and reduces the cost of depending on global embassy or consulate centers. An eVisa system elevates the branding and image of a nation, making it a more welcoming and visitor-focused destination.
An eVisa system is a digital, end-to-end platform designed to facilitate the application and approval process for travel permits. An eVisa system allows applicants and border agencies to interact digitally, which also eliminates paperwork and manual processing. On approval, an individual is issued a tamper-proof electronic permit or Digital Travel Credential. By removing the need for an in-person application and for receiving a physical sticker, Governments can make significant cost savings and reduce travel costs for applicants who must often make lengthy journeys to embassies or consulates.
Globally, more than 60 countries have successfully implemented an eVisa system and are enjoying the associated benefits.
Benefits of an eVisa
The benefits of an eVisa system go beyond the obvious time and resource savings.
For Governments, an eVisa system guarantees greater security and more robust passenger screening. Unlike a Visa-on-Arrival or Visa-at-Embassy process, high-risk individuals can be identified in real-time, pre-travel. Travel and health documents can be verified in minutes and automated alerts can be implemented to support border agents in their work. For law enforcement, immigration and customs agents, the eVisa system is a tool to augment and enhance their work, allowing them to be more focused on the cases that require their specialized attention.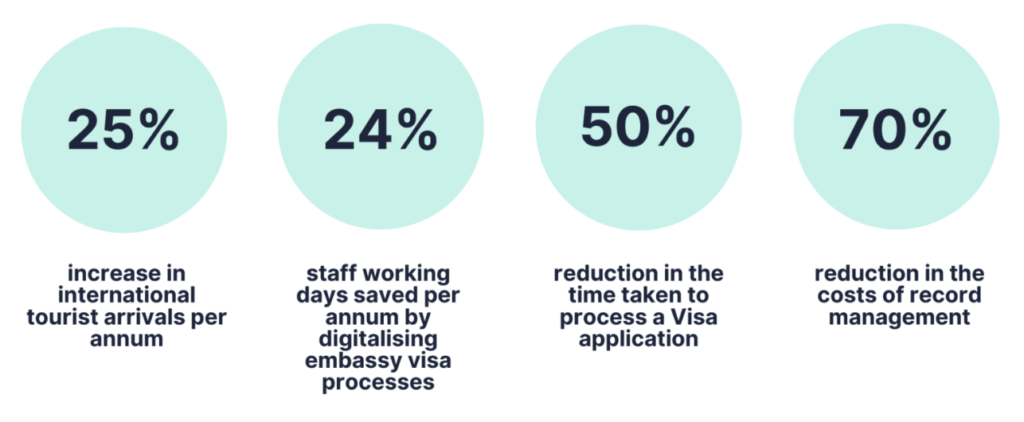 Introduction of an eVisa system is also proven to attract foreign investment, increase tourism volumes and grow the economy. Positioning the country as a safe destination with respect for law and order is an opportunity for any country looking to grow or maintain its reputation as a tourist haven.
For travelers, an eVisa system enables a simple, online application process – which can be done from the comfort of their home. This convenient and efficient service matches modern traveler expectations and helps the applicant to feel peace-of-mind and confidence about their journey and experience on arrival. The Digital Travel Credential (DTC) eliminates the need for Visa stamps / stickers in the passport, and removes the need for expensive and time-consuming travel to an Embassy or Consulate.
Tourists are increasingly factoring in the travel and border crossing experience when making decisions about where to go. The introduction of an eVisa addresses a vast array of travel challenges, the Digital Travel Credential (DTC) facilitates a secure check-in process at the port of embarkation, and ensures a fast-track arrival process at the port of destination, so that arriving tourists can experience the country as quickly as possible. Research shows that measures which remove bottlenecks and expedite the Immigration or Security process are welcomed and in some cases, expected, by tourists.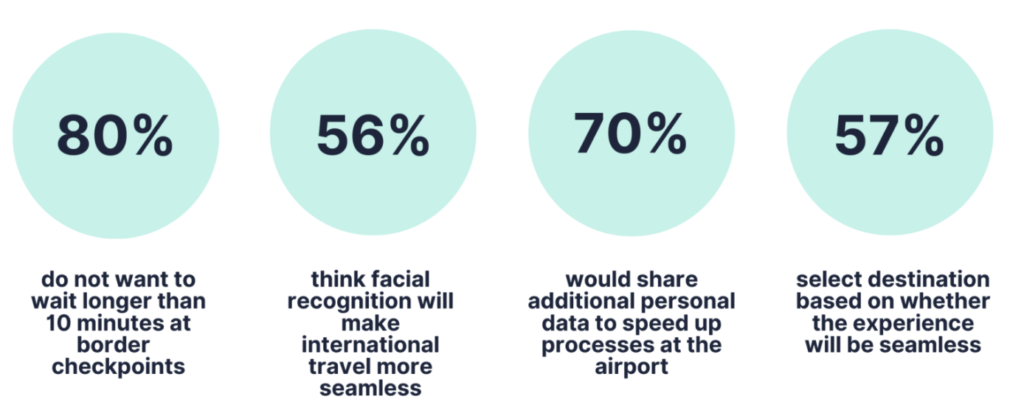 Travizory's unique eVisa system
Travizory has developed a market-leading eVisa system that incorporates facial biometrics and Artificial Intelligence to augment the work of border agents, both pre-travel and at the border. Our eVisa system can be interconnected with an existing Border Management System or API-PNR targeting system. Governments can also benefit from the full suite of Travizory solutions by integrating our eVisa system with our Electronic Travel Authorization and Advance Passenger Information Systems for maximum security.
"The Seychelles Tourism Department has been able to leverage the digital system to improve our internal processes, enhance our decision making and deliver a world-class experience to our tourists. As a result, I strongly recommend the state-of-the-art digital solutions offered by Travizory Border Security SA." – Principal Secretary, Seychelles Tourism